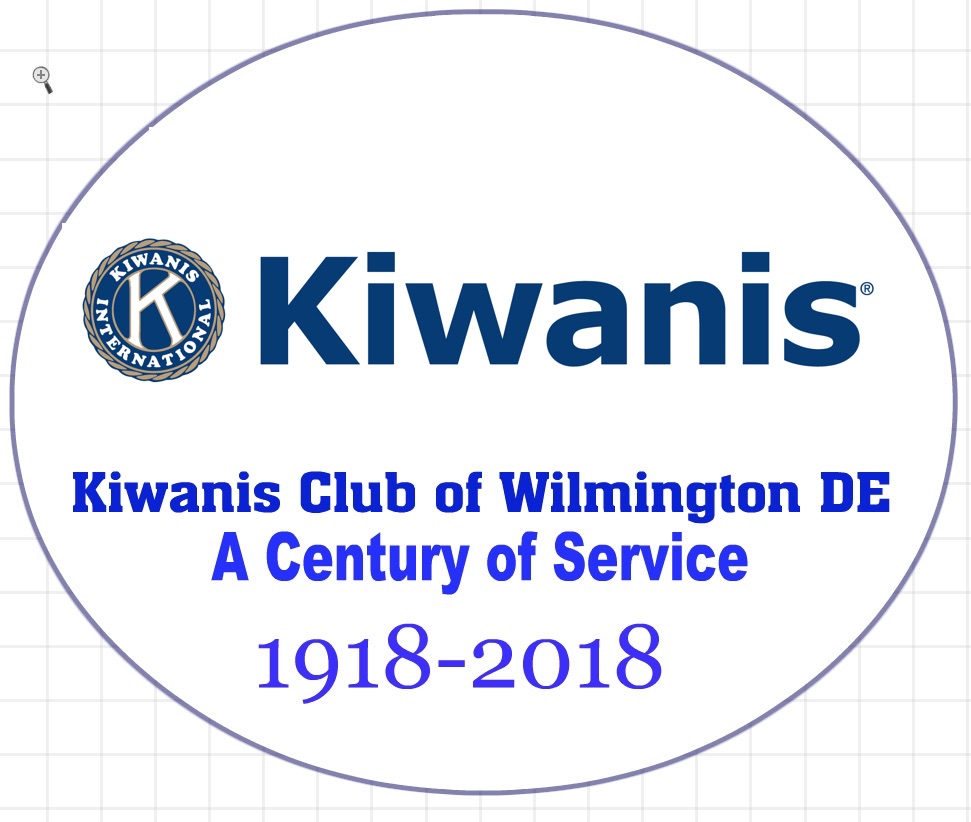 We meet now, as we have since 1918, at the Hotel Dupont at noon on the first and third Wednesday (Except in the summer months when we skip the first Wednesday and only meet on the third Wednesday of the month. Our Board of Directors voted a change on 11/12/2012. We will hold an evening meeting, including our Service Leadership clubs we sponsor, on the 5th or the 4th Wednesday (When a month only has four). The evening meetings will start at 6:00 P.M.
and will usually be held at the Ed "Porky" Oliver Golf Club on DuPont Road in Wilmington DE.

Click here for newest post

Wednesday, October 17, 2018
12:00 P.M.
Program: Quarterly Civil Service Awards
Presented to our valiant Civil Servants. This meeting honors the
Police Officer and Fire Firefighter recipients
of the Kiwanis Award for the third quarter of 2018. Join us as we pay tribute
to those who are singled out from each organization, choosing from people
all of whom put themselves at risk to protect us from fire, crime and
consequences of personal injury. These awards are an attempt to
satisfy a debt to those who serve us all and are seldom recognized for
their effort. Our award winning Kiwanis Banner
for this meeting (as soon as it becomes available.).
Clicking on this link opens our bulletin in a new window. You may also right
click it and choose to download it.)

---
Wednesday, December 5, 2018
12:00 P.M.
John Horne of Independence Prosthetics - Orthotics, Inc. will be our Kiwanis Club's guest speaker on Wednesday, December 5th

John has 17 years experience in the prosthetics and orthotics field and is the founder of Independence Prosthetics - Orthotics.
John worked at the Hughston Sports Medicine Hospital in Georgia and treated patients at the Roosevelt Warm Springs institute, a well-known polio treatment center attended by Franklin D. Roosevelt. In addition, he completed clinical training at Alfred I. DuPont Hospital for Children in Wilmington, Delaware and managed offices for three Philadelphia hospitals.

At the age of 15, John was diagnosed with bone cancer and underwent an amputation below the knee to remove the tumor.
His personal experience with prosthetics led to an interest in the field and, ultimately, the founding of

Independence Prosthetics - Orthotics. He enjoys outdoor camping and adaptive snow skiing. He has bungee jumped, biked nearly 100 miles to the beach and skydived-all as an amputee.

For John, the best part of the job is making a positive difference in the lives of others and working with a team of dedicated professionals with high standards focused on patient success. John's passion also includes promoting and participating in research endeavors which help advance the profession of prosthetics and orthotics as well as the lives of people living with limb loss.

Our award winning Kiwanis Banner
for this meeting (as soon as it becomes available.).
Clicking on this link opens our bulletin in a new window. You may also right
click it and choose to download it.)

---
Wednesday, January 16, 2019
12:00 P.M.
Program: Quarterly Civil Service Awards
Presented to our valiant Civil Servants. This meeting honors the
Police Officer and Fire Firefighter recipients
of the Kiwanis Award for the fourth quarter of 2018. Join us as we pay tribute
to those who are singled out from each organization, choosing from people
all of whom put themselves at risk to protect us from fire, crime and
consequences of personal injury. These awards are an attempt to
satisfy a debt to those who serve us all and are seldom recognized for
their effort. Our award winning Kiwanis Banner
for this meeting (as soon as it becomes available.).
Clicking on this link opens our bulletin in a new window. You may also right
click it and choose to download it.)

---
Newest Post
Wednesday, February 6, 2019
12:00 P.M EDT
Join us at the Hotel DuPont on Wednesday, February 6th to hear our speaker
Louis E. Bartoshesky, M.D., MPH

A native Delawarean, Dr. Bartoshesky was born at what is now Wilmington Hospital. He earned his medical degree in 1970 from Weill Medical College of Cornell University in New York. He received a master's degree in public health in 1974 from the Harvard School of Public Health in Boston. Over the next three years, he completed his residency in pediatrics and his fellowship in clinical genetics at the Boston Floating Hospital for Children, part of Tufts-New England Medical Center in Boston.

After completing his post-graduate training, Dr. Bartoshesky stayed on at Floating Hospital as a staff pediatrician and clinical geneticist until 1986. During his time in Boston he also worked as a consultant in clinical genetics at hospitals around Massachusetts. He returned to his hometown of Wilmington in 1986 to join the staff at the Medical Center of Delaware, which later became part of Christiana Care. He worked for the health system full-time from 1989 to 2000, when he left to practice pediatric clinical genetics at Nemours A.I. duPont Hospital for Children. He returned to Christiana Care as Chair of Pediatrics in 2007; he retired as Chair of Pediatrics on January 1, 2014.

Dr. Bartoshesky also is an experienced teacher of pediatric medicine. He was an assistant professor in the field at Tufts University School of Medicine from 1978 to 1986. Since 2006, he has been Professor of Pediatrics at Jefferson Medical College of Thomas Jefferson University in Philadelphia. He also has continued his own education, earning a master's degree in liberal studies from University of Delaware in 2006.

The long list of awards that Dr. Bartoshesky has received throughout his career includes the Sydney S. Gellis Teaching Award from residents at the Floating Hospital and the Jefferson Award from the American Institute for Public Service. The Floating Hospital also has an award given each year to an attending physician in his name.

Dr. Bartoshesky also has served as a trustee for Christiana Care Health System.

Our award winning Kiwanis Banner for this meeting (as soon as it becomes available.).
(clicking on this link opens our bulletin in a new window.
You may also right click it and choose to download it.)


---
He and his wife, Kiwanis Club of Wilmington Past President Pat, have two grown daughters.
Maybe you would like to join us and become a member?

If you believe, as we do, that you can have fun while doing good and "Many hands make light work," we'd love to give your application for membership consideration at our next Wilmington Kiwanis Board of Directors meeting! The membership application is on this site and will open in a new window in your browser for to fill in blanks and print it, when you complete it. Grab by right-clicking on the word 'here' or clicking here!